Have you experienced a Train Ferry? Perhaps you think that Train Ferries are uncommon, but especially in earlier times, you would be wrong. Volunteer Roger Burns takes you through from the beginnings to the present day, and you might be surprised at how many there were worldwide, and how many are still in use. The story of train ferries is extensive and worldwide so this narrative provides insight how Britain devised and used them. Copious links are provided, many with good explanatory images. 
Train Ferries Overview 
Train ferries are used where seas, rivers and large lakes, such as those in Canada, need to be crossed to develop rail networks within a country, and also across water between countries. In many cases, bridges or tunnels have rendered or will soon render train ferries obsolete. Alternatives, where feasible, were to provide dedicated passenger ferries with passengers changing trains on each shore, but freight trains were more problematic as the freight needed to be unloaded into lorries to cross in a vehicle ferry and then be reloaded into trains, a very time consuming and expensive business. For this narrative, train ferries are Roll-on/Roll-off where complete trains except locomotives are shunted directly into and out of ferries, but there are numerous examples, again especially in the Canadian lakes, where barges were used to carry the rolling stock. 
Worldwide, including Europe, North and South America, Africa, Asia and the Antipodes, there were at least 23 countries totalling at least 127 examples where train ferries were used, and currently about 21 countries operate 23 train ferries, many of which will become obsolete as bridges or tunnels are completed. Somewhat surprisingly, four train ferries are under consideration, each of which are trans-border in Asia. Many of the examples are inter-country, especially the Baltic countries, and there were historically services linking Cuba with America, currently suspended and excluded from the above inventory. 
Development of Railways and their Gauges 
The Stockton and Darlington railway operated from 1825 and initially used a gauge, distance between rails, of 4 ft 8in (1,422 mm) apart. George Stephenson discovered that an additional ½in (12mm) improved matters and 4 ft 8½in (1,435 mm) became the norm over much of the world, known as Standard Gauge. But not all countries served by a train ferry had the same gauge, as shown here, with current European gauges illustrated here. Such differences between rail networks over which the same train had to operate were usually overcome by variable gauge systems, which can be read here. 
First Two Sea-Going Train Ferries 
Civil Engineer Thomas Bouch, later Sir Thomas Bouch, devised a "Floating Railway" to cross the five miles of the Firth of Forth between Granton and Burntisland. The history of this first train ferry is described here and in a video based on an acclaimed excellent model layout which describes the port and the train ferry terminal. PS Leviathan, the world's first purpose designed train ferry built in Govan by Robert Napier, commenced trials in late January 1850, as the extract in the 2 February 1850 edition of The Scotsman reported: "The first experimental trial took place on Wednesday last in presence of the directors, and was eminently successful. We may mention that the spacious deck of the steamer is capable of holding a train of from 3O to 40 loaded trucks; and on Wednesday twelve trucks, consisting of coals and general merchandise, were taken-on board at Burntisland in about seven minutes. The time occupied by the steamer in crossing was 25 minutes; and the trucks were safely run ashore at Granton in the course of three minutes afterwards, amidst the hearty cheers of a large concourse of spectators, who had assembled to witness the interesting proceedings. It must have been a source of no ordinary gratification to the directors to see such a happy termination to a work that has no doubt caused them much trouble and anxiety, and which we are sure must considerably enhance the value of the undertaking committed to their charge". The "Floating Train" across the Forth was formally opened on 3 February 1850. 
Figure 1 illustrates Bouch's pioneering ferry ramp, or linkspan.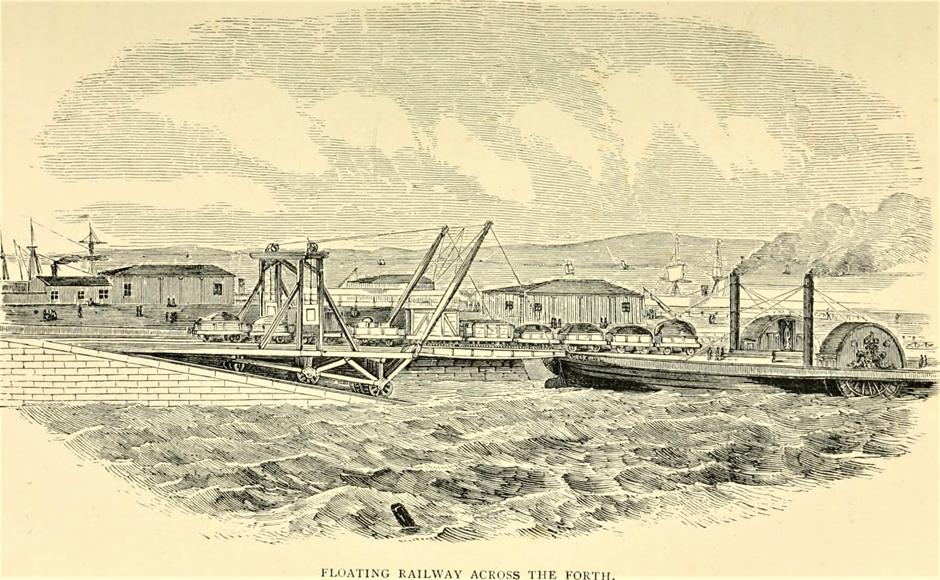 Figure 1: Bouch's Pioneering Ferry Ramp
No Known Restrictions
An objective of the relevant railway companies was to have train ferries crossing both the Forth and the Tay, thus significantly reducing the travel time between Edinburgh, Dundee and Aberdeen. The Tay crossing followed soon after, opening between Ferry Port on Craig, soon after shortened to Tayport as it is now, and Broughty, soon after referred to as Broughty Ferry, which is a modern conurbation on the eastern side of Dundee. Bouch also designed the terminals, and the 0.9mile crossing of the Tay was successfully accomplished by the brand-new PS Robert Napier Train Ferry which made its first crossing with Railway Company directors and shareholders on 28 March 1851. Both ports had required extensive works to create docking facilities and protection from bad weather, and both had similar linkspans as at the Forth. A fixed steam engine on land allowed the carriages to run downwards to the ship and to pull the coaches up from the ship. Thus, there was for the first time a direct link from Aberdeen to Edinburgh without having a long detour to where the rivers could be crossed, saving 46 miles by the Tay crossing alone.
Both paddle steamers were iron hulled, with twin one-cylinder steam engines, one per paddle which provided better manoeuvrability when docking, and double ended with hand-operated bow and stern rudders; Leviathan had three parallel rail tracks, the Robert Napier had two. The Leviathan and the Robert Napier were respectively 48.04m and 41.88m long. A consequence of the harbour works at Tayport was that coal mined in Fife was despatched, as it was from Burntisland, to foreign ports thus increasing harbour revenue.
The Forth train ferry closed when the Forth Bridge was opened in 1890. The Tay train ferry ceased when the first bridge, designed by Thomas Bouch, opened to the public on 31 May 1878 but was quickly resurrected when it collapsed on 28 December 1879. The second bridge opened on 20 June 1887 and the train ferries were finally withdrawn. Interestingly, the blame for the collapse had been primarily based on the wind during a storm, but this was questioned in 2015 as being due more to fatigue damage caused by dynamic loading.
Isle of Wight Train Ferry
The PS Carrier had been launched on 16 November 1858 by Scott & Co., Greenock, and was the smallest of the fleet of six train ferries used at the Forth and Tay crossings, being 37.9m long and also iron hulled. Redundant by 1883, it was sold and transferred to the newly formed Isle of Wight Marine Transit Company complete with approach ramps and winching gear for £3,400 (approx. £334k in 2022).  The transfer ramps were installed at Langstone near Havant and at St. Helens on the IoW and the train ferry service was inaugurated on 1 September 1885. Operations ran at a loss in the exposed conditions of the eastern Solent and the service lasted only until 31 March 1888.
Cross-Channel Train Ferries in the First and Second World Wars
An overview can be read here for the First World War, and some of the history for the Second World War is available here. One of the train ferries, HMS Daffodil served in both wars and was lost on 18 March 1945 and its history and loss is available here.
Post Second World War
A good example of the railway deck in a modern train ferry is illustrated in Figure 2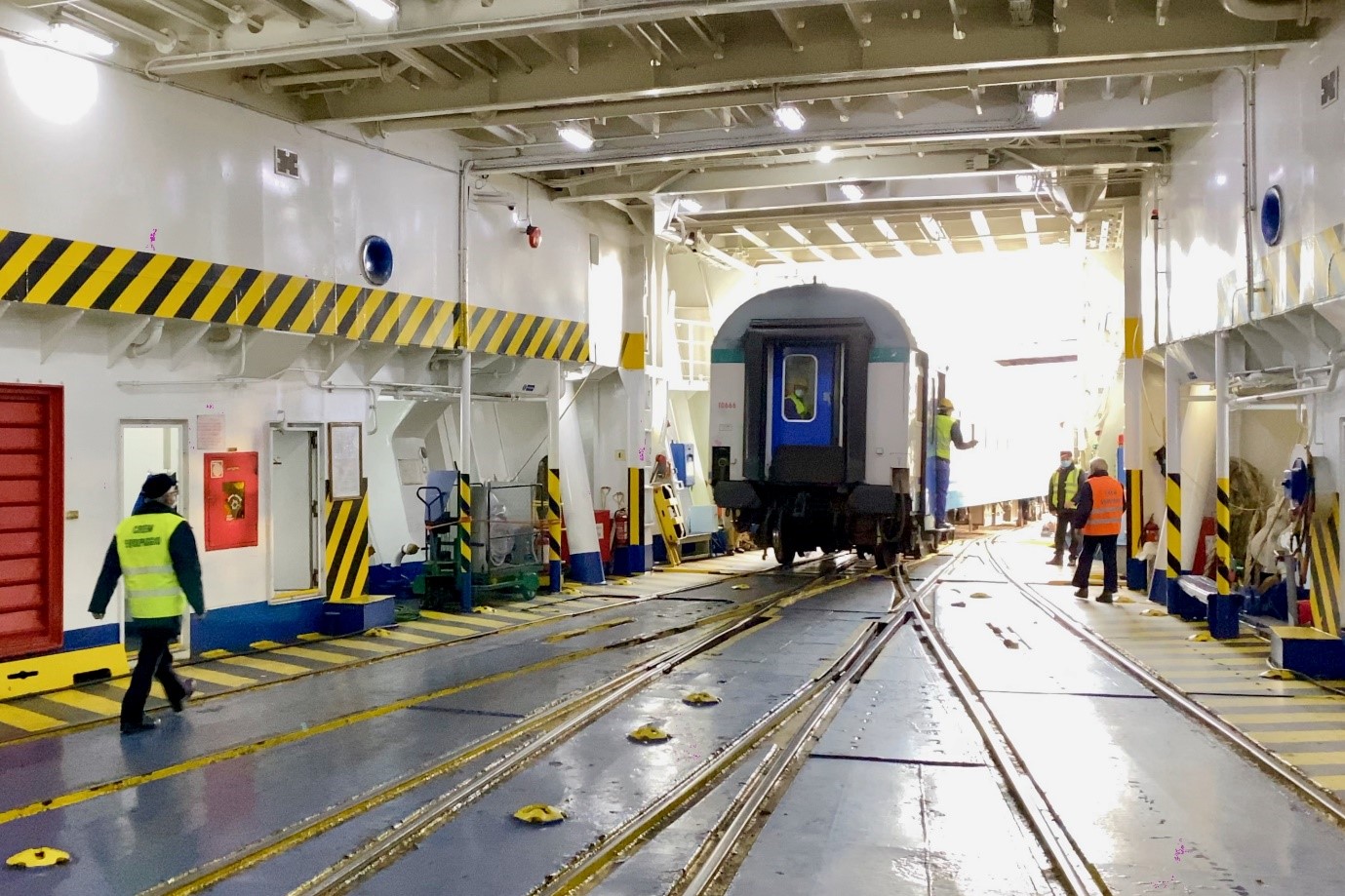 Figure 2: Train ferry Deck in Villa San Giovanni
Z22, CC BY-SA 4.0, via Wikimedia Commons
Cross channel train ferries resumed post war and ran until the opening of the Channel Tunnel in 1994.
Elsewhere, the author remembers a return train journey in 1972 between Hamburg and Copenhagen, crossing the Baltic for 12 miles in about 45 minutes between Puttgarden and Rødby. The transfer from land to ship and vice-versa was seamless during which you remained in the train but you were required to go into the foot passenger areas of the ship while crossing. This service closed in December 2019.
Train ferries were liable to peace-time  hazards, some of which were catastrophic, as seen here.
Suggested further reading