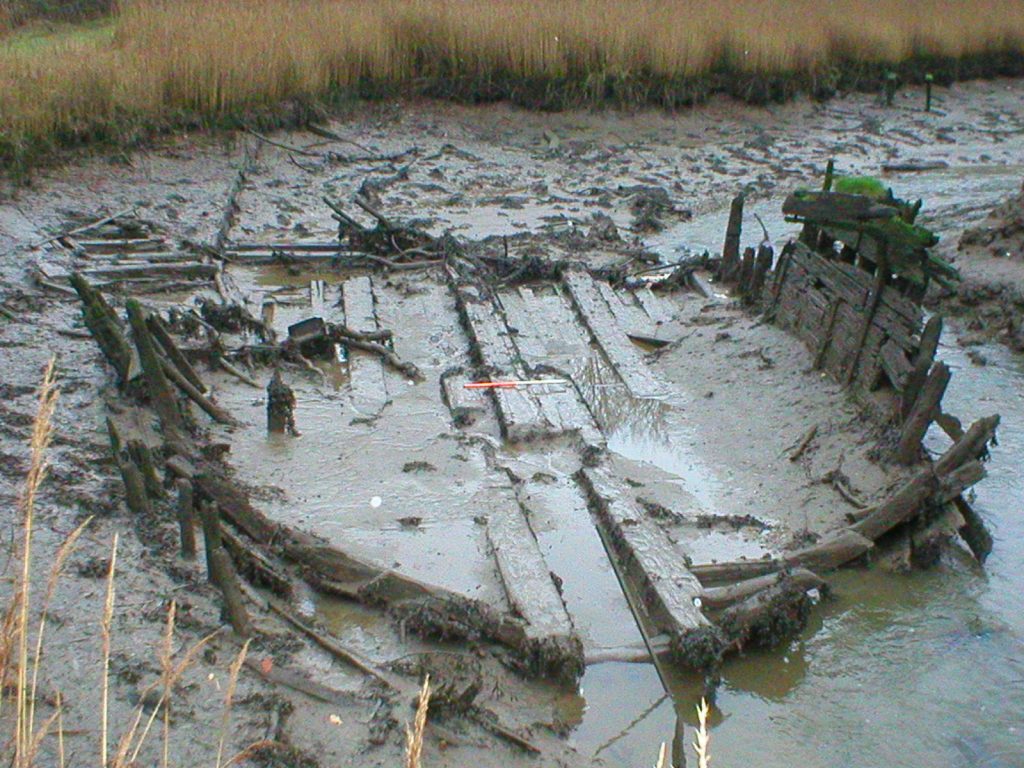 The Maritime Archaeology Trust has been investigating the maritime archaeology of the Hamble River in Hampshire (UK) over a period of several years. This ancient waterway has been an important route into the heart of Hampshire for millenia and there are numerous remains of archaeological sites around the river, including wrecks, wharfs, jetties, shipbuilding sites, oyster beds and bridges.
Hamble River Podcast Project
The Trust has produced an excellent series of short audio guides/podcasts to be enjoyed as you walk along the River Hamble. It provides fascinating insights into the history of the area and tells the story behind some of the vessels that have been abandoned on the River Hamble's foreshore.
Hamble River Heritage Lottery Fund Project
The Heritage Lottery Fund (HLF) awarded a grant to the Maritime Archaeology Trust (under our old name the Hampshire and Wight Trust for Maritime Archaeology) to enable a programme of recording and investigation of the archaeological remains of watercraft and their associated maritime infrastructure on the River Hamble. It is evident that there is a wealth of heritage connected to the maritime past around the river margins. This project enabled us to research and record these important remains to create an archive of information which is fully accessible and will aid future management of these sites.
Local residents and river users are an invaluable resource for this project and team members have interviewed local people. Many people have an extensive knowledge of the river and if such knowledge is not recorded it runs the risk of being lost forever. These memories of the river and its history can give an insight into the origin, date, identity and function of many features found on the river and are used to supplement field investigations, where local knowledge will continue to present a new perspective to our work.
Hamble River Logboat
The Hamble logboat was discovered in 1888 during the construction of a new boathouse on the estate of Fairthorn Manor, at the junction of the Hamble River and Curbridge Creek. The logboat measures 4m long by 0.76m wide and is formed from a single oak tree. The finding of the logboat was reported in the Hampshire Chronicle on the 13th October 1888 in the following way;
"AN ARCHAEOLOGICAL DISCOVERY of the greatest interest has been made this week in the tidal river Hamble. At the point of junction of the Curbridge Creek with the river, some considerable distance above the still existing wreck of the Danish man-of-war, a boat house is being built, and in order to make sufficient waterway the workmen removed the mud and alluvial soil. Something hard was encountered and, thanks to one of the workmen having an intelligent taste for antiquities, the obstruction was carefully uncovered, and proved to be a portion of a possible pre-historic canoe, certainly pre-Roman. It is a few feet higher up the river than the old Roman hardway or landing place, and was evidently sunk close on shore."
The area where the logboat was found has also been noted for its Roman remains, including a villa site and the remains of pottery kilns. Because of this, it has long been assumed that the logboat was Roman in date, or possibly even earlier. The logboat was loaned to the Southampton City Museum by the Botley Market Hall Committee in 1913 and is now kept in the SeaCity Museum Store.
The Trust has investigated the history of the logboat and most importantly to find out the date of the vessel as a way to guide further research. The vessel is made from oak and is therefore suitable to be dated using dendrochronology. Funding for this was provided by the Roman Research Trust and was carried out by Nigel Nayling of Lampeter University. This has revealed that the logboat is in fact Saxon, dating from AD 668-704. Further investigation of the vessel is planned, that may shed new light on Saxon maritime activity in the Solent Region.
Storymap
Created by MAT volunteer Sam, explore the history of the River Hamble through an interactive Storymap.
Hulks and wrecks
Potentially the earliest boat remains found in the river are those of a logboat discovered in the Upper Hamble in the 1880s (HAM143). This vessel was then thought to be pre-Roman, but now known to be Saxon – 7th or 8th Century. It represents a type of craft that is surprisingly scarce in the Solent.
Perhaps the river's most famous vessel remains are those of the Grace Dieu, a Medieval vessel which took the clinker building technique (overlapping planks) to its extreme (HAM141).
Investigating and cataloguing the remains in the inter-tidal zone has revealed a large number of abandoned vessels. Ship and boat remains of all shapes and sizes are represented; importantly many of these craft have direct links to riverside activity and industry. They exist in varying forms from substantially intact to a few remaining frames and a keel. Many are substantially buried.
Further survey and research of these hulks should allow more information to be gained about their age, type and function.
Hulks & wrecks:
HAM004: Hulk – Lincegrove Marsh
HAM007: Hulk – Badnam Creek
HAM008: Hulk – Badnam Creek
HAM012: Slate mound – Upper Hamble
HAM017: Masted barge – Swanwick
HAM018: Hopper barge hulk – Swanwick
HAM019: Hopper barge hulk – Swanwick
HAM020: Crane barge Hulk – Swanwick
HAM021: Hopper barge hulk – Swanwick
HAM022: Hopper barge hulk – Swanwick
HAM023: Hopper barge hulk – Swanwick
HAM024: Hopper barge hulk – Swanwick
HAM025: Hulk – Warsash
HAM026: Hulk – Hamble Point Marina
HAM027: Hulk – Hamble Point
HAM029: Hulk – Nr Hamble Point
HAM030: Hulk – Nr Hamble Point
HAM037: Hulk – Flash (Mercury)
HAM043: Hulk – Nr Warsash
HAM044: Hulk – South of Crableck
HAM045: Hulk – Crableck
HAM046: Hulk – Bunny Meadows
HAM047: Hulk – off Bunny Meadows
HAM048: Hulk – off Bunny Meadows
HAM049: Hulk – off Bunny Meadows
HAM050: Hulk – Bunny Meadows
HAM051: Hulk – Fortuna (Mercury)
HAM052: Grace Dieu Corner
HAM059: Obstruction/ hulk – Satchell Marsh
HAM061: Hulk – Off Badnam Creek
HAM063: Hulk/s – Crableck
HAM064: Hulk – Norseman – Swanwick
HAM069: Hulk – South of railway bridge
HAM070: Hulk – South of railway bridge
HAM071: Hulk – South of railway bridge
HAM089: Hulk – Lincegrove Marsh
HAM090: Hulk – Satchell Marsh
HAM092: Hulk – Swanwick
HAM093: Hulk – Bursledon
HAM098: Hulk – Wessex – Fairthorne
HAM107: Hulk – Satchell Marsh
HAM108: Hulk – off Mercury Marina
HAM114: Hulk – Curbridge Creek
HAM125: Hulk – Gypsy Queen
HAM129: Wreck off Hook Point
HAM141: Grace Dieu
HAM142: Holigost
HAM143: Logboat – Upper Hamble
HAM146: LCA – Bunny Meadows
HAM148: Hulk – Lower Swanwick
HAM153: Seaplane Lighter – Lwr. Swanwick
HAM156: Hulk – Hackett's Marsh
Hards, wharves & landing places
The many shapes and sizes of vessels on the river today require a number of waterfront facilites; this is no different to the situation in the past. It is no surprise that the river banks host a range of quays, wharves, jetties, hards and other constructions for the use of vessels.
There has been little investigation of these waterfront facilities. They have all been constructed as required for different purposes, fuelled by the river's industries. The construction techniques employed do not appear to be standardised, but there are features which appear in more than one example.
As a collection these waterfront facilities provide an interesting opportunity for study. Detailed recording and research as part of the Hamble River Project is beginning to allow these structures to be put into context, aiding assessment of watercraft, riverside activity and the development of the maritime landscape.
Hards, wharves and landing places:
HAM001: Hoe Moor Creek
HAM002: Dock – Hoe Moor Creek
HAM003: Dock – Hoe Moor Creek
HAM005: Post alignment – Lincegrove Marsh
HAM006: Pontoon – Lincegrove Marsh
HAM011: Dock – Dock Creek
HAM015: Stake alignment – Upper Hamble
HAM040: Ferry Hard – Warsash
HAM042: Ferry Hard – Hamble
HAM053: Dock – Grace Dieu site
HAM054: Slipway – Hamble Point
HAM055: Hamble Quay
HAM056: Jetty – near Bunny Meadows
HAM057: Holly Hill Hard
HAM058: Jetty – TS Mercury
HAM062: Jetty remains – off Badnam Creek
HAM067: Jetty – Swanwick
HAM068: Dock/ quay – Swanwick
HAM072: Old slipway – north of the railway bridge
HAM074: Jetty – Eastlands boatyard
HAM075: Hard – Upper Hamble
HAM076: Eyersdown Hard
HAM099: Burridge Hard
HAM102: Harmsworth Hard
HAM103: Botley Quay
HAM109: Dock – Curbridge Creek
HAM123: Hard – Warsash
HAM127: Chemical factory hard – Newtown
HAM130: Hook Lake
HAM134: Dock – Satchell Marsh
HAM135: Dock – North of Hamble
HAM139: Quay – South of Hamble
Shipbuilding & timber trade
Shipbuilding
Traces of shipbuilding activity are present along and adjacent to the shoreline. Early shipbuilding would have been undertaken at any suitable location along the riverbank. Documentary references demonstrate a surge in shipbuilding in the Medieval period; shipyards were active at both Bursledon and Hamble.
Two Napoleonic shipbuilding sites have been subjected to detailed survey, HAM016 at Bursledon and HAM034 at Warsash. HAM016 appears relatively intact, timber elements protrude from the foreshore and further structures lie buried in the mud. The preservative qualities of the inter-tidal sediments have ensured that these timbers are in good condition. Other sites remain to be recorded, several are identified from maps and charts, many were contemporary and demonstrate the scale of the industry.
Timbertrade
Use of the river has been fuelled by the abundant local timber resources. The felling and transporation of timber for use in shipyards has affected the management of the landscape for over six hundred years. Timber was a vital commodity for many industries. A reference in the late 15th century records show that ash trees were being felled from the Hamble and taken to Southampton by water; here they were loaded onto Venetian trading galleys. By 1577 complaints were being voiced about the excessive amounts of timber being taken from the Hamble.
The use of timber continued and the next period of major drain was during the Napoleonic wars. Towards the end of this period there was a shortage of tall straight trees needed for masts and planking. Timber, particularly pine, was imported from Scandinavia and Canada.
Archaeological evidence of the timber trade is present in several forms. Some timber yards are marked on maps and would have had associated waterfront facilities. At Dock Creek we find evidence of wharves lining the riverbanks. This site was used for both seasoning and loading timber. The riverside here would have been bustling with activity. Other associated remains are earthwork remains of buildings and tracks across the landscape.
Further downstream the shipbuilding yards would have held large supplies of timber for their own construction work. They were also used as timber yards by merchants.
Other 'wood' industries
It is not just the large trees for shipbuilding that were exported – many other products were manufactured. There was a thriving barrel hoop industry at Botley; broom handles, underwood and bavins were also transported by water.
Shipbuilding and timber trade sites:
HAM009: Dock Creek/ Dock Copse
HAM016: Bursledon Point
HAM034: Parsons' Warsash Yard
HAM073: Shipbuilding yard – North of motorway
HAM081: Shipbuilding slips – Bursledon
HAM085: Cottage – Dock Copse
HAM091: Shipbuilding yard – Bursledon
HAM096: Shipbuilding site – Church Creek
HAM100: Timber yard and quay – Pinkmead
HAM101: Timber yard – Curbridge
Maritime industries
Fishing
HAM039: Lobster Pond – Warsash
HAM124: Carb moorings – Warsash 
HAM137: Oyster beds – north of Hamble Quay
HAM140: Oyster beds – south of Hamble Quay
Salt making
HAM088: Salterns – Hamble Point
Brick making
HAM080: Brick kiln site – Down Kiln Copse
HAM094: Hoe Moor Brickworks
Maritime transported goods, etc.
HAM014: Earthworks – Upper Hamble
HAM086: Gravel pits – Bloomfield Copse
HAM087: Gravel pit – Foxburrow Copse
Unclassified sites
HAM095: River Crossing – Bursledon
HAM097: Bursledon Bridge
HAM104: Drove Road – Hacketts Marsh
HAM113: Curbridge Bridge
HAM115: Wooden Posts – Hamble Point foreshore
HAM116: Timber Circle – Hamble Point foreshore
HAM126: Newtown Chemical Works
HAM128: Buildings on riverside – Warsash
HAM130: Hook Lake
HAM131: Coastguard Stn. – Hook Point
HAM159: St Andrew's Castle – Hamble Point 
HAM160: Fairthorne – Roman remains