Maritime Archaeology Trust volunteer, Roger Burns, acknowledges the duty of First World War trawler crews, many of whom were volunteers who found themselves minesweeping and undertaking similar duties to help clear the sea of deadly sea mines. Roger's investigation includes an account of the story and crew of one such vessel – Saxon Prince.
 Imagine that war has just been declared and volunteers are needed for a wide variety of roles. If you had a required skill, what would you do? Most probably volunteer. However, especially for those of us who have not endured armed conflict against a belligerent enemy, it is difficult to imagine the thoughts of those who readily volunteered during such times.
Requisitioned First World War Trawlers
The Admiralty urgently required minesweeping expertise, partly answered by existing naval minesweepers, but substantial additional resources were needed. The Admiralty turned to requisitioning trawlers. Trawlers, especially those operating out of east coast ports, voyaging to the North Sea and around Iceland, were particularly sturdy craft. This was one of the reasons they were used for minesweeping, along with having clear deck space. Crews were well accustomed to the rigours encountered by these vessels, which were easily adapted from hauling trawls to hauling mine sweep wires.
Despite the acknowledged consequences of war, there was no shortage of men willing to put themselves forward. The Newcastle Journal of 8 August 1914 reported one response made by volunteers with trawler experience, just eleven days after war was declared:
"MEN FOR MINE-TRAWLING.
SPLENDID RESPONSE AT NORTH SHIELDS.
Between five and six o'clock yesterday morning a message was received in North Shields asking for four volunteer crews to join the Admiralty minesweeping section, and the work of organising them was undertaken by Mr Jos. Knowles, of the Prince Fishing Company. He was unable, owing to the shortness of the notice, to give any idea of the rates of remuneration or conditions of service, but before nine o'clock had received 60 applications. In order that he might not be accused of making invidious distinctions, Mr Knowles selected the earliest applicants, and 27 of the men required were dispatched by the 9.40 a.m. train. The remaining crew remained behind take to Sheerness the Shields trawler Saxon Prince, which had been secured by the Admiralty for the minesweeping service".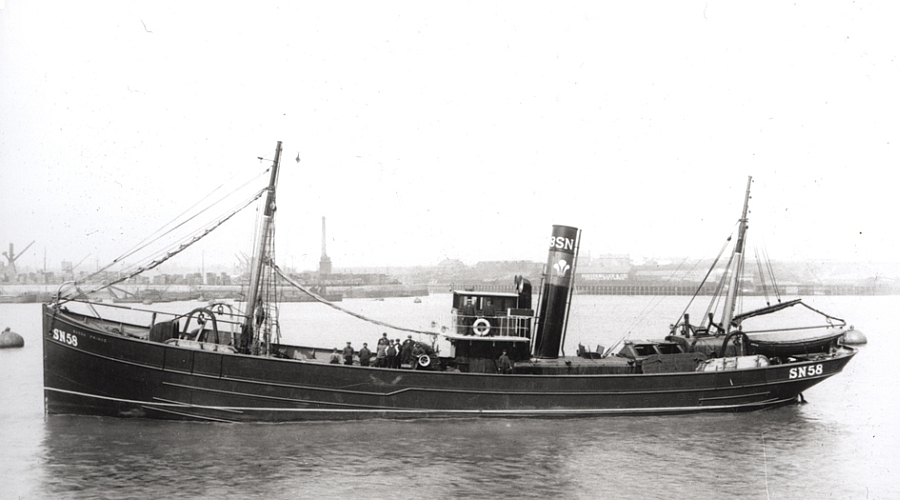 First World War Trawler: HMT Saxon Prince
Lloyd's List of 26 January 1907 reported that Saxon Prince was the 26th trawler built for the Prince Fishing Co. Ltd. of North Shields. However, by 1916 the owner was Richard Irwin and Sons; Irwin had been the manager for the original owner. Built by J.T. Eltringham & Co at South Shields, Saxon Prince was a steel hulled trawler measuring 36.7m long with a 6.7m beam, powered by a single screw driven by a 3-cylinder steam engine rated at 75nhp. It was launched on 29 November 1906, registered with Official Number 117970 and allocated Fishing Registration SN58. On its trial trip, 10 knots were achieved.
There is little pre-war information about Saxon Prince. However, the Newcastle Daily Chronicle of 8 February 1907 reported that Saxon Prince was stranded on Megstone, Farne Islands, but refloated on a rising tide. Requisitioned in August 1914, Saxon Prince was modified for minesweeping duty and armed with 1x3pdr gun. Again, information is scant until its loss is recorded in the Belfast News-Letter of 11 April 1916:
"Trawler Lost with All Hands
The loss of the trawler Saxon Prince, belonging to North Shields, with all hands, was reported yesterday. The owners are the Prince Line Fishing Company. The disaster occurred on 28th March. The crew consisted of George Albert Ross (master) and seven hands".
However, the true number lost was all 12 on board. The Saxon Prince had foundered in a Force 12 storm off Dover on 28 March 1916, sadly with the loss of all crew. It was unusual, but not exceptional, for a long-distance trawler to founder in a storm. In any case, a Force 12 storm is not an environment anyone would wish to sail in by choice. What are believed to be the remains of the wreck now lie in 22m of water.
Trawlers, minesweepers and other coastal patrol vessels played a crucial role in keeping the sea lanes around the British Isles open during both World Wars, a part of the war effort that is often overlooked. The crews who served aboard such vessels faced tremendous dangers with incredible bravery and devotion to duty.
We hope you enjoyed reading this account of First World War Trawlers and their crews. To read more accounts of First World War bravery, along with many other fascinating maritime-themed wartime stories and our MAT news and updates, please explore our blog.