Explore the history of HMS Medina, its association with the Delhi Durbar, why it had three designations, HMS, SS and RMS, and why it was referred to as both a 'yacht' and a 'liner'. Discover the remarkable collection of artefacts recovered from its wreck. Join MAT volunteer, Roger Burns, who offers a fascinating and detailed overview.
The Medina was a passenger and general cargo liner launched by Caird & Company of Greenock on 14 March 1911 for the Peninsular & Oriental Steam Navigation Company, also of Greenock, costing £332,337 (approx. £41.6m in 2021). Medina was large, steel-hulled, 167.58m long, 19.13m beam, 10.51m deep, 9.06m to 10.5m draught, 12,350/6.700 grt/nrt, and the last built of 10 "M" Class (scroll to 1890s Marvels of the 'M' Class). It was designed for 460 first class and 216 second class passengers, with cargo space totalling 6,807m3, of which 1,975m3 was insulated. Registered on 28 October 1911 at Greenock with ON131849, it was intended for the London via India Australia mail service, a voyage that was scheduled to take just two weeks driven at a service speed of 16.5 knots by its quadruple-cylinder steam engines and twin screws.
History of HMS Medina – Commissioning into the Royal Navy
During the latter stages of completion, government and Royal preparations were in progress for King George V and Queen Mary to attend the third (and last) Delhi Durbar in India. Suitable transport was necessary and P&O were approached with a request to use their new Medina before it went into service, a request that was initially publicly dismissed but then confirmed on 26 April 1911. Suitable alterations to the internal layout of the new ship were required and on 10 October 1911, the ship was commissioned into the Royal Navy as HMS Medina, Figure 1, and referred to as the Royal Yacht.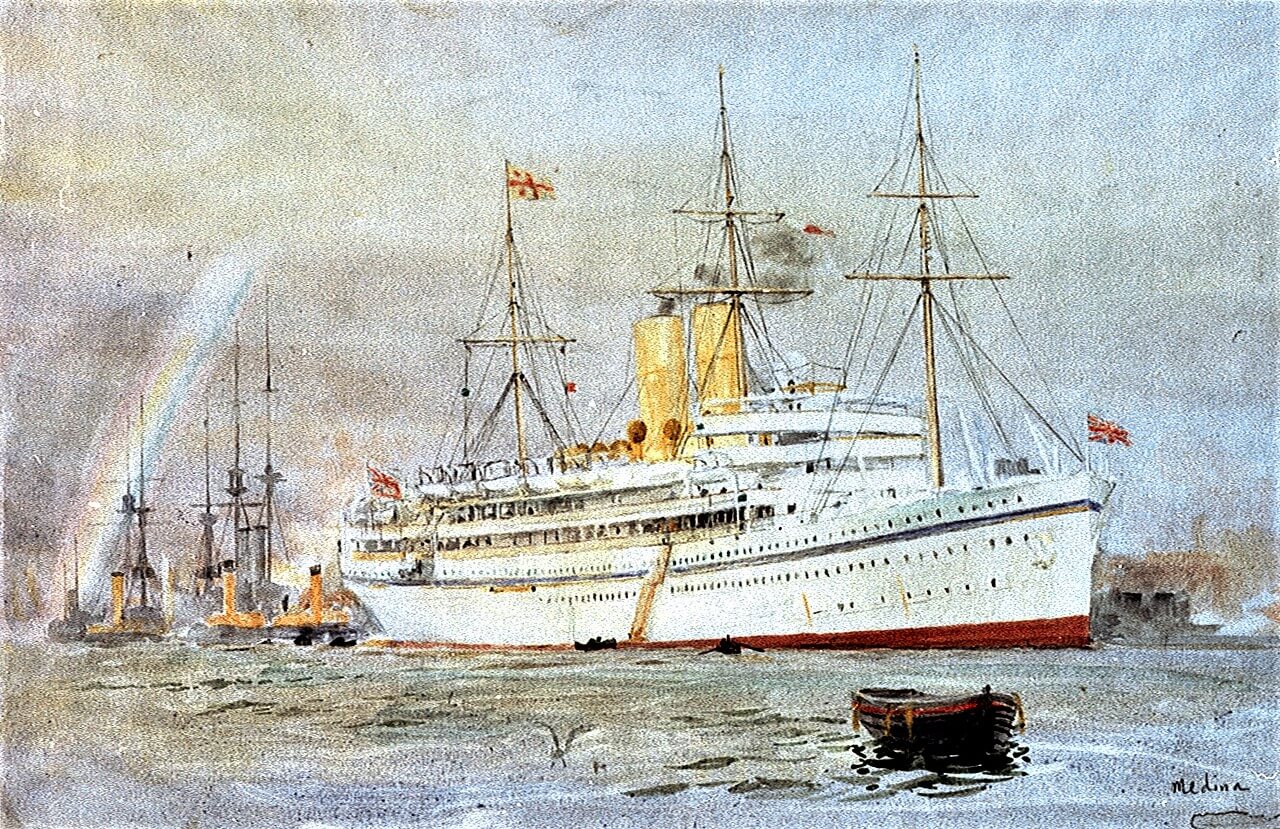 HMS Medina departed on 11 November 1911 for Bombay with the Royal Party onboard, crewed mostly by Naval personnel. It returned to Portsmouth on 5 February 1912, Figure 2. The Delhi Durbar of 1911 is described, with images and rare footage here. Interesting aspects of the trip include:
The ship's master was Rear-Admiral Sir Colin Keppel, and the Commander, navigating throughout, was Admiral George Tomlin who was awarded the M.V.O. (Member of the Royal Victorian Order). Tomlin often dined with the King and Queen and, during the trip, his banns were read out onboard.
The Royal Marine Band were part of the Delhi Durbar party onboard the Medina, and King George ordered that his Royal Cypher GRV be added permanently to the Band's cap badge.
The RN chaplain, Henry Dixon-Wright, and the RNVR chaplain, Frank Burnett, who were on board are recorded here.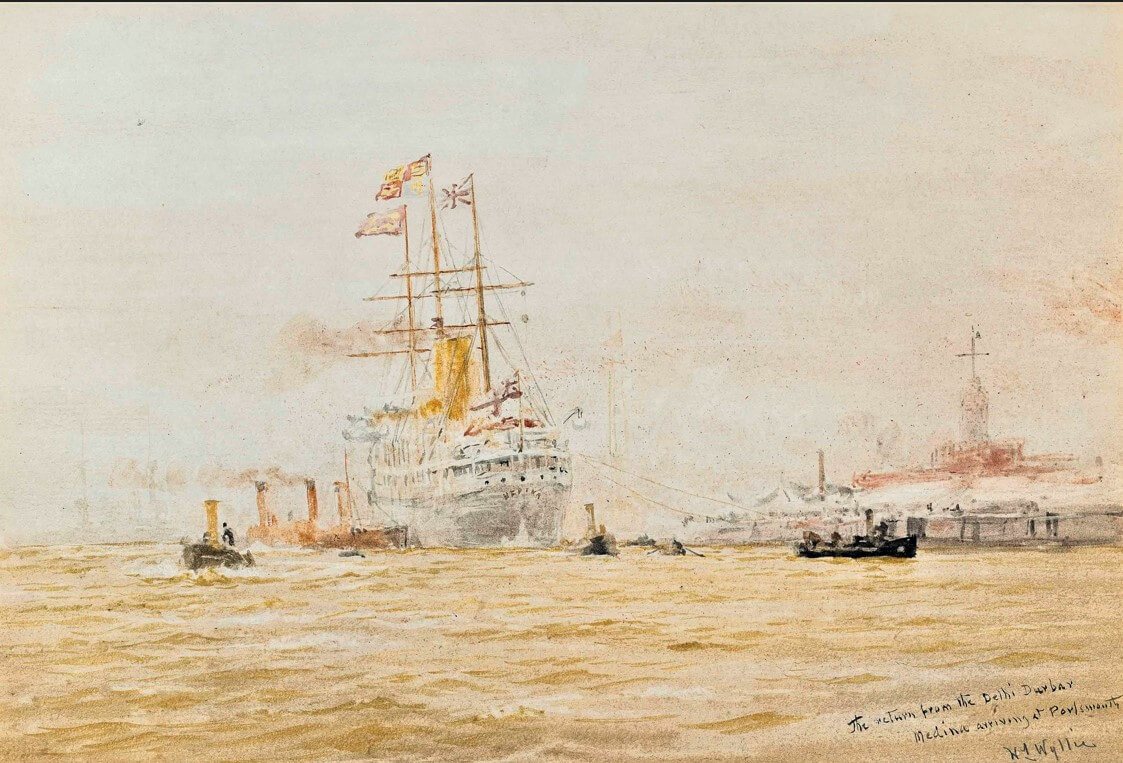 Post-Navy Career and Sinking
Medina was refitted for P&O services, which included repainting it from the colours used for Delhi Durbar, including its traditional black funnels. As of 28 June 1912 it reverted to the Australia service with the more familiar SS (Steamship) designation before becoming RMS (Royal Mail Service), an entitlement on any ship that had a formal contract to carry the mail.
RMS Medina was not requisitioned during the First World War, continuing with its commercial services, but was defensively armed with a deck gun. Captained by H.S. Bradshaw, Medina was returning from Sydney, Figure 3, and had docked at Plymouth to offload most passengers and bullion. However, 53 passengers and a mixture of 411 Royal Navy, Royal Naval Reserve, Royal Naval Volunteer Reserve and Mercantile Marine Reserve personnel as crew, were onboard en route for London from Plymouth. German submarine UB-31 fired a torpedo at the Medina at 5.50pm on 28 April 1917, which exploded on the starboard side of the ship to the rear of the engine room, killing six crew. Fortunately, all others onboard were saved. The casualties comprised five Indian crew and the fourth engineer. They are commemorated respectively at BOMBAY 1914-1918 MEMORIAL, MUMBAI, which can be searched here, and at Tower Hill. Foreign crew in various maritime roles were prominent during the war, and recognition of the vital contribution by Black and Asian Seamen can be read about here.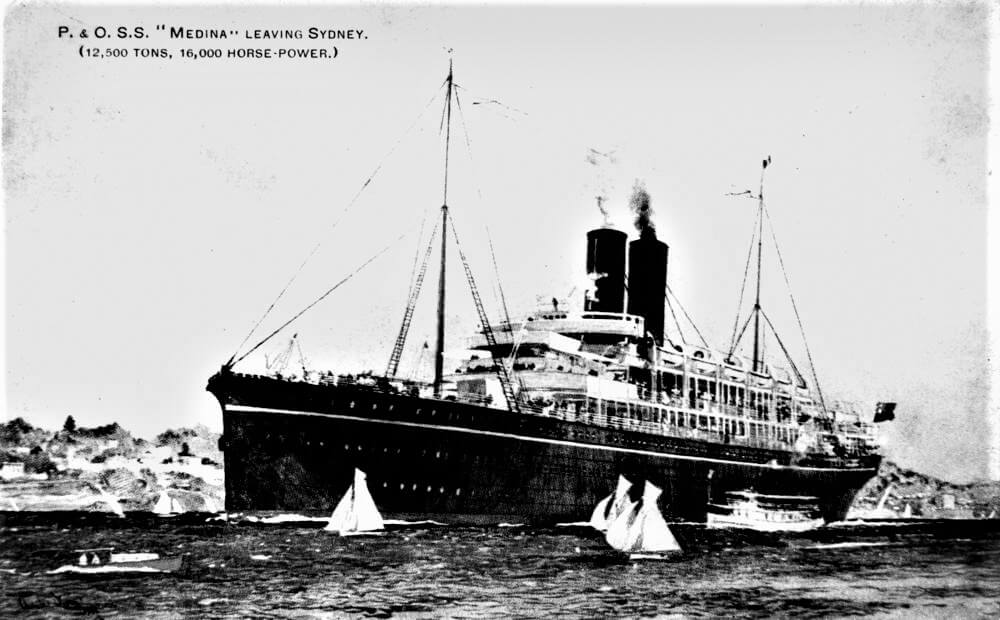 Medina sank approximately four miles ENE of Start Point, Devon. The wreck, 60m deep, sits almost upright, listing slightly to port, with the main deck at about 55m and other superstructure parts at 38m.  A bathymetry image, Figure 4, illustrates the wreck lying on the seabed.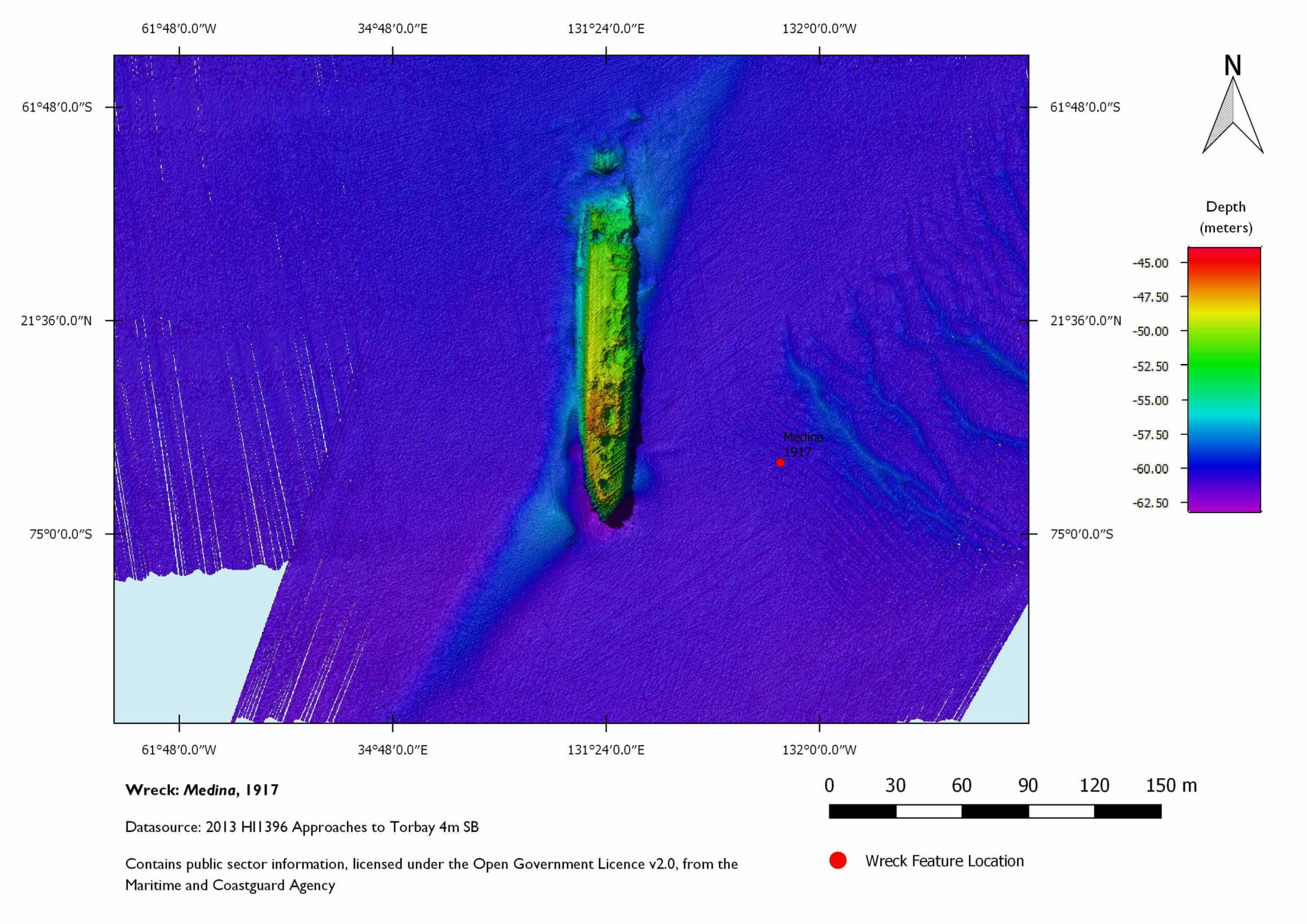 Recovery Operations and Artefacts
Some underwater images together with details of some of the recovery operations can be read here. Reference is made to the Governor of Bengal Lord Carmichael who lost all his personal possessions, much of which were found during recovery operations in 1984. A tremendous number of artefacts were recovered and this, together with a much more detailed history of Medina can be read here. This MAT Report includes the following artefact-related websites:
There are many artefacts from Medina on display at Charlestown Shipwreck and Heritage Centre with images of their display cases included in MAT's detailed history of Medina, two of which are reproduced below in Figures 5 and 6.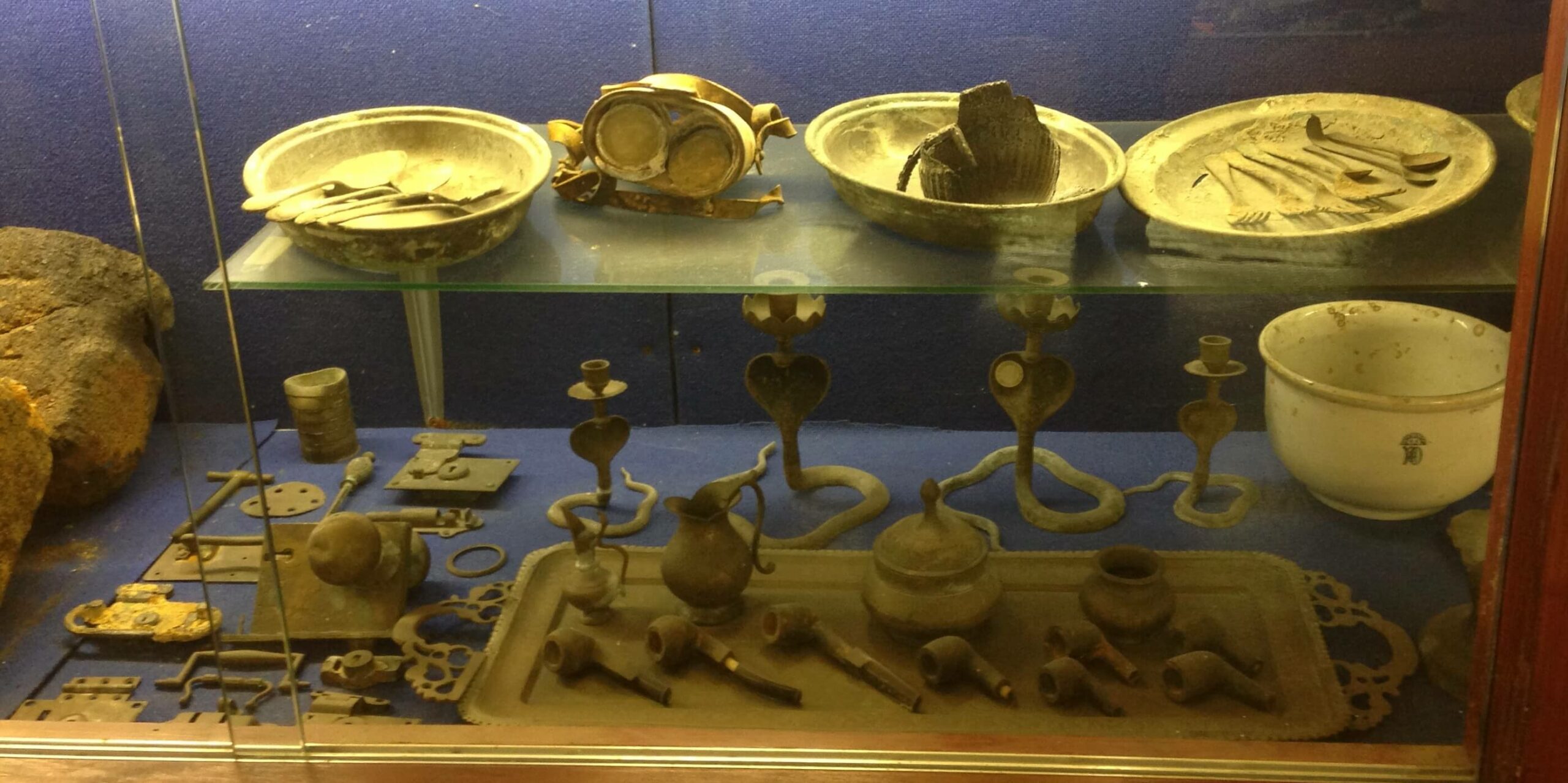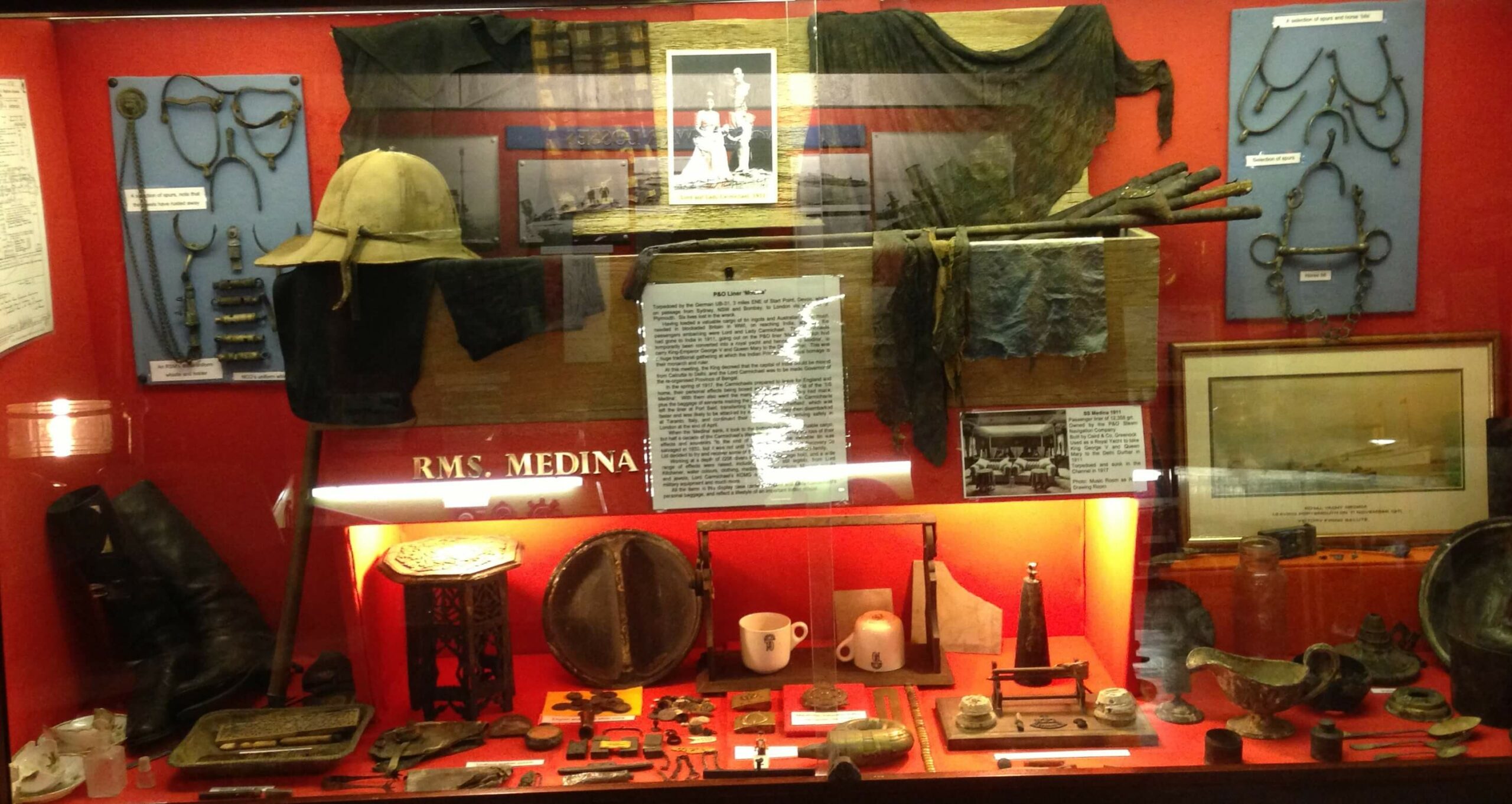 Footnote – King George V died on 20 January 1936. His Royal Yacht, Britannia, ON99000, was built at Partick in 1893 as a Cutter but was converted to a Spritsail by 1930. He had inherited it from King Edward VII on his death. According to King George's wishes, Britannia was towed from Cowes and scuttled by the Royal Navy at sea off the Isle of Wight under cover of darkness on 8/9 July 1936. Respecting his wishes, only the hull was scuttled and a wide range of fittings were auctioned at Cowes on 24 June 1936. Britannia was hailed as having won more races than any other yacht in the world, winning 231 first and 129 other prizes out of 625 contested races. One of the Britannia's artefacts, a bronze fairlead, Figure 7, is displayed at the Shipwreck Centre & Maritime Museum at Arreton Barnes, Isle of Wight.

Thank you for reading this article on the history of HMS Medina. And thank you to MAT volunteer, Roger Burns, for sharing your research. If you have a passion for maritime archaeology or naval history and would like to work with us to produce articles for our blog, please get in touch – we would love to hear from you: