Airships were used offensively and barrage balloons defensively in the First and Second World Wars. There are three main types of airship: 'non-rigid', sometimes referred to as blimps, 'rigid', sometimes referred to as zeppelins, and 'semi-rigid'. Join MAT volunteer, Roger Burns, as he looks at the use of airships and barrage balloons by the Allies and Germans in both World Wars.
Airship Development
Airships, like balloons, are lighter-than-air (LTA) craft. Where balloons have no source of propulsion and are vulnerable to the wind, airships are powered and able to lift and manoeuvre in any direction. Both are based on buoyancy principles of lift, which goes back to the Greek philosopher, Archimedes. Hot air balloons can be traced back to 1783 to the Mongolfier brothers in France. The first hydrogen filled balloon was also invented in France by Jacques Charles in the same year. Another Frenchman, Henri Giffard, in 1852, using a small underslung steam powered engine with a large propellor, is credited with the first airship.
The advent of the petrol internal combustion engine advanced airship construction in the last few years of the 19th century. In Germany, Ferdinand Zeppelin created a dirigible (a rigid framed hydrogen cell craft), flying it in 1900. In 1904, American inventor Thomas Baldwin built and flew a dirigible of his own. By 1908, having seen the dirigible's potential and enlisted Baldwin to build one, the American Army had its first powered aircraft. This 'rigid' type of blimp has an internal steel or aluminium frame that supports a material covering, creating the iconic elongated blimp-shape we are familiar with today. This type of dirigible is capable of carrying loads and/or passengers in underslung powered gondolas or 'cars'.
Development continued, particularly in Germany. Its progress through to the modern era can be read here. In Britain, development was slower, as can be read here.
First World War Airship Bases in Mainland Britain
There were two in Scotland, five in England, and two in Wales, as depicted here, with twelve Airship Sub-Stations. The south coast of England was home to three of these bases:
Capel Airship Station – Near Folkestone. The station was opened in May 1915. Airships operated from the base and were also produced there for a time. Three large airship sheds were constructed at the site. Airship SSZ-1 operating from here depth-charged and sank submarine UB-103.
Polegate Airship Station – Inland from Eastbourne. RNAS Polegate was the second airship station constructed. By autumn 1916 two huge airship sheds had been constructed along with workshops and accommodation. Nearby was a hydrogen gas-making plant and concrete mooring blocks to secure the airships, some of which survive today. The station was disbanded in 1920 with the structures and equipment being auctioned off. Initially the SS (Submarine Scout) airships were flown from Polegate, later to be replaced by the SSZ (Zero Class) airships. Polegate was one of the busiest airship stations during the First World War.
Mullion Airship Station – Lizard – RNAS Mullion was built on one of the highest points on the Lizard. From here airships set off on anti-submarine patrols along the Channel. The site had two large airship hangars along with accommodation blocks, gas storage tanks and workshops. Coastal Class non-rigid airships were the first to fly from Mullion with other types of airship being developed during the war. RNAS Mullion was closed in 1919 and then largely dismantled. The concrete bases of the large hangar floors are still present on the ground at the site. It was reused as an experimental balloon centre in the Second World War.
Three Offensive Airships in the First World War:  C8, L-15 and SSZ-15
Airship C8. A British airship of the coastal class. Wikipedia describes (CC BY-SA 3.0) the Class as follows: "The Coastal Class (often known as the C-Class or simply the 'Coastals') were a class of non-rigid airship or "blimp" used by the Royal Naval Air Service (RNAS) during World War I. The C-class blimp operated by the United States Navy after the war was a completely unrelated design. In total 35 Coastals were built, all at RNAS Kingsnorth, Kent. Entering service in 1916, the Coastal class remained in widespread service until 1918, with a few members of the class still in service at the signing of the Armistice, while others were replaced by the improved C-Star class as they became unfit for service. The blimps were used for long anti-submarine patrols in the Western Approaches and English Channel, protecting convoys from German U-boats. The Coastal class was one of the first aircraft types specifically designed to detect and attack submarines". Read here for further information on this Class, and here for the loss of C8. This last account includes reference to Mrs Gertrude Tomkinson 20 years later seeking information about the loss of C8 when her brother had died. The poignant exchange of letters can be read here.
Airship L-15. Also designated as LZ48 by the manufacturer Zeppelin Luftschiffbau, L-15 was a "P" class airship operated by the German Navy (Kaiserliche Marine). Specification details are here, shown for L-10 but applicable to L-15. L-15's final flight is described courtesy of 'Sir Charles Wakefield Medal – Zeppelin L15', First World War Poetry Digital Archive, accessed February 3 2022, http://ww1lit.nsms.ox.ac.uk/ww1lit/items/show/5533. Details of the medal are also on this website.
"The commander of the L15 was Kapitanleutnant Joachim Breithaupt. On the 31st March 1916, at 21.45 hours, the L15 received a direct hit from the AA gun at Purfleet, Essex. The AA shell damaged four of the gas cells (numbers 9, 11, 12, and 16), and the L15 began to lose height – despite the crew chucking out everything, to lose weight. While the L15 got closer to earth, it was attacked by a Royal Flying Corp aircraft which climbed above the L15 and tried to destroy it by dropping incendiary bombs, and Ranken darts onto the top of the hull. This was not successful. But eventually the Zeppelin became too heavy to fly, and came down in the sea off Margate at 00.15 (1st April) – close to the Kentish Knock lightship. One crew member was drowned, with the rest of the crew (16 in total) rescued by the armed trawler Olivine. The sodden, half-sunk remains of the L15 were then taken under tow but the airship broke up off Westgate and only small sections were hauled ashore, where parts were obviously liberated by souvenir hunters. Eventually the sea reclaimed what was left of the airship on the beach". Further explanation of the location notes that L-15 entered the water about 2 miles south of South Knock Buoy and was towed about 14 miles when it landed at Margate Sand. (Note that Margate Sand is a sandbank off shore and not Margate Beach). L-15 had previously carried out two bombing raids on the UK. In October 1915, L-15, one of five Zeppelins in the raid, dropped 30 bombs between the Strand and Lime House in London. On 31 January/1 February 1916, nine Zeppelins, including L-15, targeted Liverpool, but the raid was disrupted by bad weather and bombs were widely scattered. On the third and final trip, L-15, one of five, crossed the English coast at Dunwich at 19.45 hrs.
A painting, Figure 1, by Donald Maxwell is described: The hulk of a downed Zeppelin lying in the Thames Estuary. The size of the Zeppelin is brought in to scale by the surrounding boats.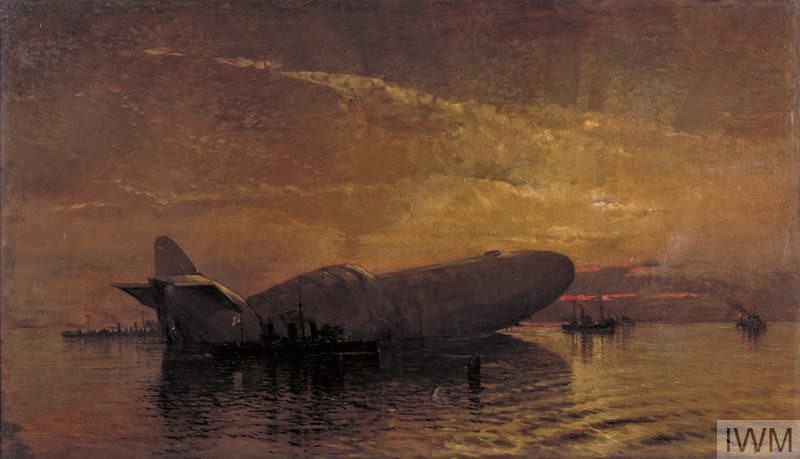 In Figure 2, "Two police officers stand amidst rubble beside a crater caused by bombs dropped from German airship L15 on Chambers Street, Bermondsey".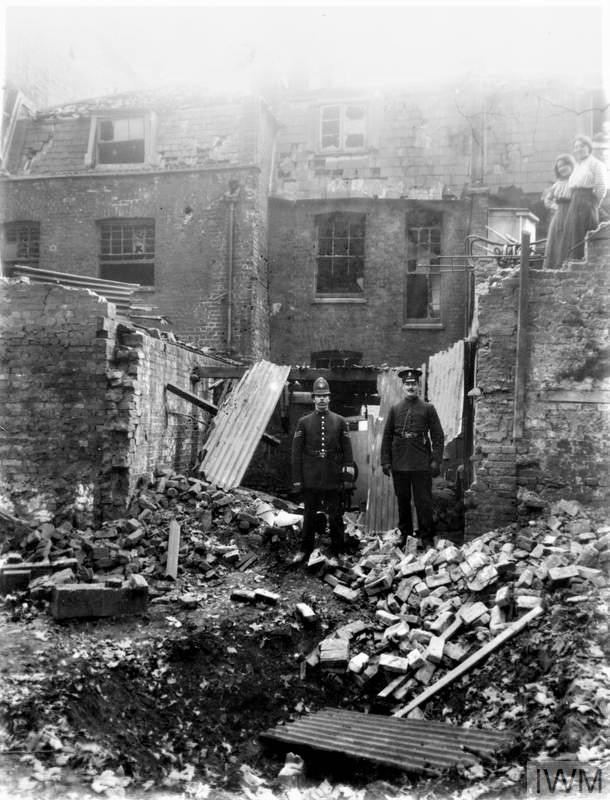 Airship SSZ-15. A British airship, one of the 77 'Submarine Scout Zero' Class, the specification for which is here. This airship incorporated radio communications consisting of Type 52 transmitters for Morse code with a range of 60 miles. It was lost on 13 April 1917. Details are included in an article, with an optional audio reading, as part of MAT's Forgotten Wrecks of the First World War project. Figure 3 depicts an SSZ airship on escort duty and Figure 4 shows a bomb being dropped from an SSZ airship, both from the First World War.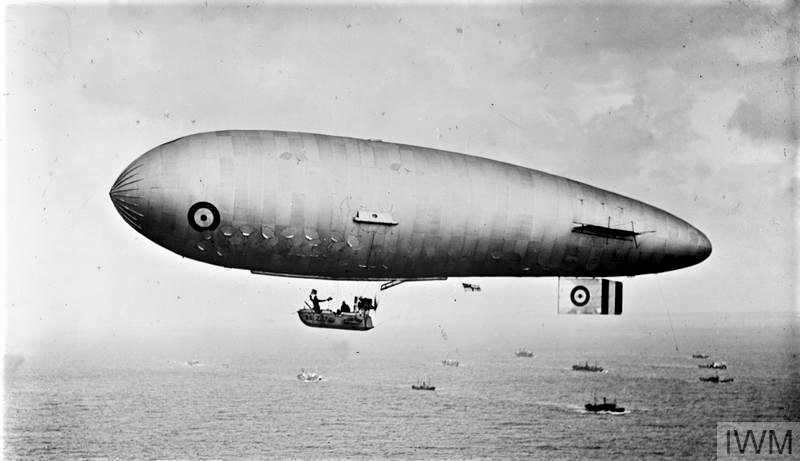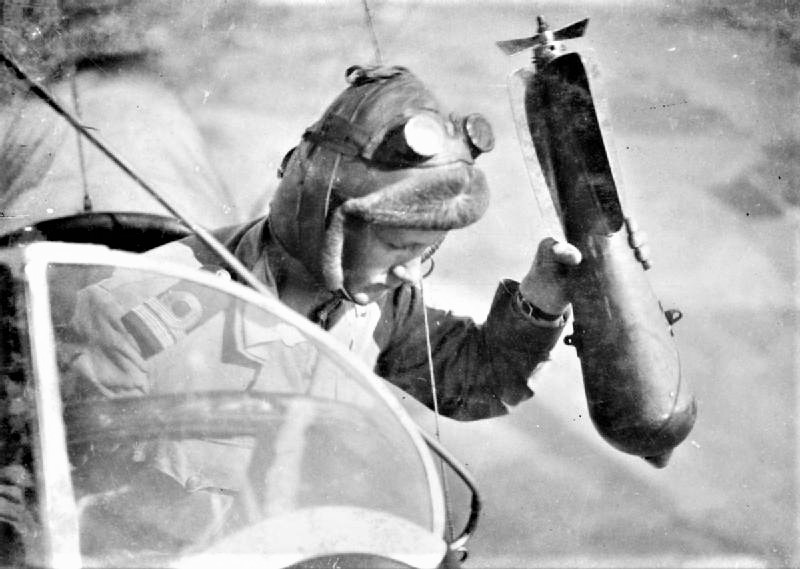 An interesting account of the reconstruction of an SSZ control car is available here.
American Use of Offensive Airships in the Second World War
The attack on Pearl Harbour on 7 December 1941 made America realise it did not have the means to defend its 12,000 miles of coastline, but what was considered outdated technology came to the rescue with the construction, by Goodyear, of over 150 airships during the last three years of the war. American airships hunted U-boats along their coasts, provided effective escorts for coastal convoys and, by 1945, were stationed at Louisiana, Florida, Texas, Jamaica, Trinidad, Suriname, Brazil, Guantanamo Bay, and latterly at Gibraltar and French Morocco.
Defensive Barrage Balloons
These were deployed to protect cities, and to protect shipping at harbours and coastal areas. In the First World War, "sometimes, especially around London, several balloons were used to lift a length of "barrage net", in which a steel cable was strung between the balloons and many more cables hung from it. These nets could be raised to an altitude comparable to the operational ceiling (15,000 ft / 4,500 m) of the bombers of that time period. By 1918 the barrage balloon defences around London stretched for 50 miles (80 km), and captured German pilots expressed great fear of them" from Wikipedia CC BY-SA 3.0.
In the Second World War, barrage balloons were deployed at fixed land locations, examples being from hulks Effort and Winifred now on the river Dart, Devon, and from ships at the Normandy landings, as Figure 5.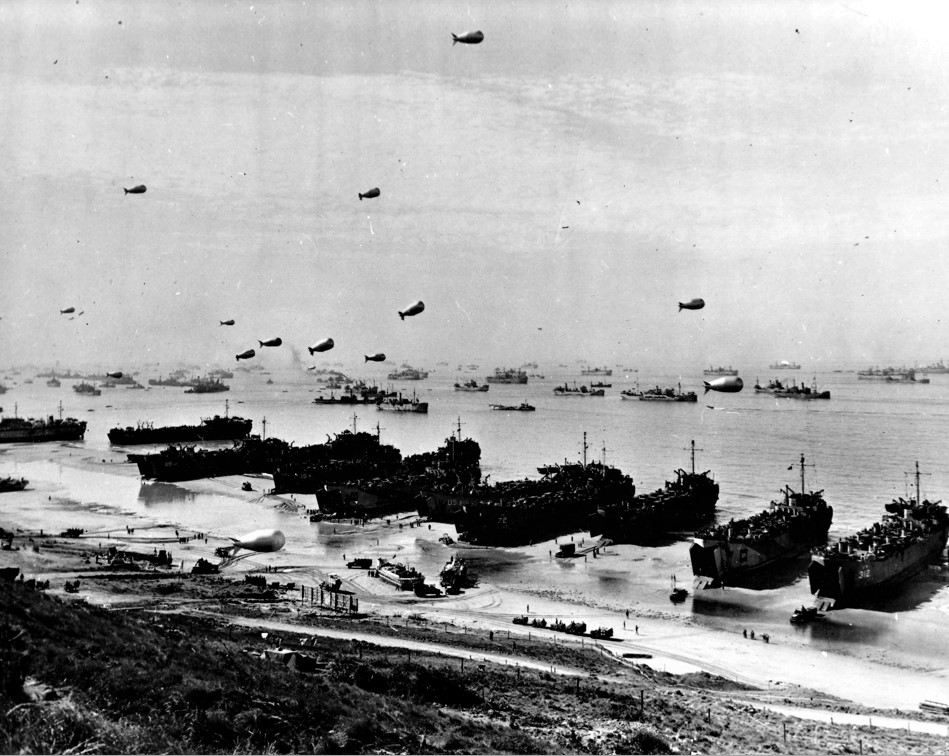 The barrage balloons were deployed by the American 320th Barrage Balloon Battalion. The USA LST's include Nos 262, 310, 524, 532 and 533.
We hope you enjoyed reading about airships and barrage balloons in the First and Second World War. Do check out the references cited throughout the article – they all lead to further fascinating information and resources. Thank you to Roger for your hard work and research and for putting this together. Explore our blog for more fascinating naval history and facts.