The first US destroyer sunk in the First World War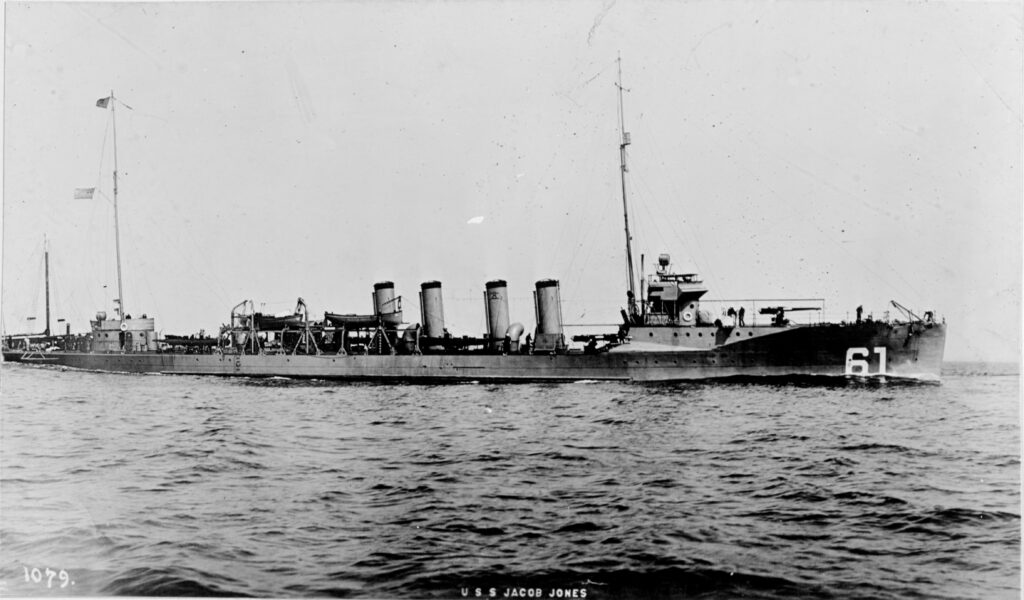 USS Jacob Jones underway in 1916 (Credit: Naval History and Heritage Command)
The USS Jacob Jones was a Tucker-class destroyer commissioned into the US Navy in 1916. From May 1917 it was involved in patrols, convoy escorts and rescues sailing from the US base in Ireland. Of all US destroyers in European waters the Jacob Jones is credited with rescuing the greatest number of survivors from torpedoed ships – 374.
On the 6th December 1917, at 4.21pm, the USS Jacob Jones was struck by a torpedo fired from U-53. The torpedo hit the starboard side causing extensive damage. With the stern sinking rapidly it was not possible to make safe the depth charges which were triggered, hastening the loss of the vessel which sank below the waves only 8 minutes after the torpedo struck. From the crew of 110, sixty-six men were lost during the sinking. This total is likely to have been higher if the German U-boat commander had not radioed the position of sinking to the vessels base. A rare humane gesture in time of war.
Details of the ships role in wartime activities, the sinking and brave actions of the crew are detailed within our commemorative publication: Forgotten Wrecks of the First World War: USS Jacob Jones – the first US destroyer sunk by enemy action. 
Detailed accounts of the sinking and correspondence between UK and US Navy officials are available at The National Archives, London. As part of research for the booklet the records have been consulted and a transcript of information from Document 'ADM137-1358 Southwest Approaches: German Submarines' has been created. You can download the transcript here.
Although the Jacob Jones is marked on the Admiralty Charts, in 110 metres of water over 30 miles south of the Isles of Scilly, to date there has been no further investigation of the remains of the wreck site. MAT would like to build a project to investigate the seabed wreckage through survey and the collection of photographic data in order to create a 3D model of the site which can be used as a 'wreck tour' to provide access to this historic site for the public across the globe and further commemorate those lost at sea. MAT are currently seeking support for this project.