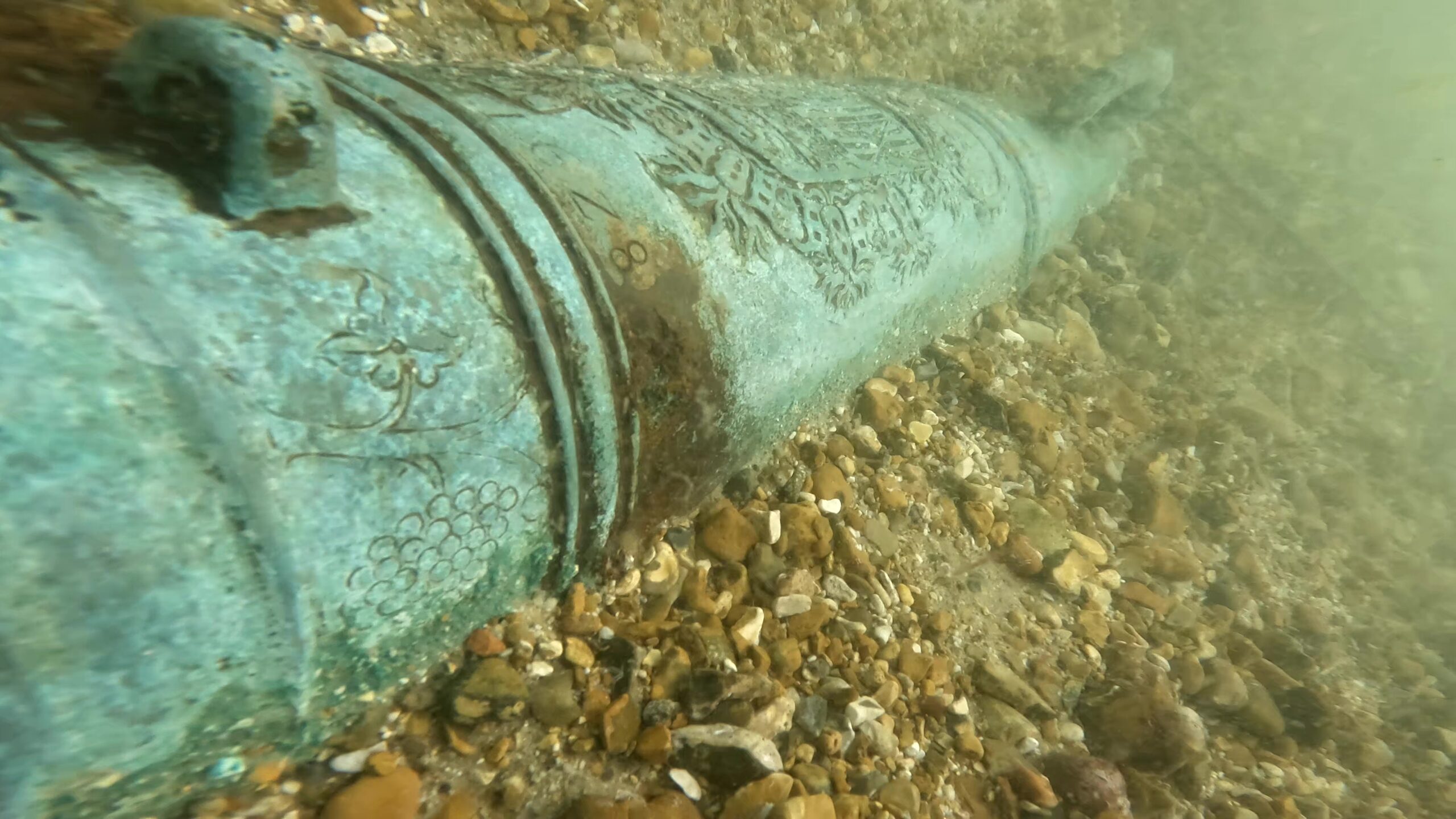 One of the bronze guns on the NW68 wreck site (image courtesy of Martin Pritchard).  
Isle of Wight based divers Martin Pritchard and Dave Fox discovered two highly significant historic wreck sites on the Shingles Bank. Their work to photograph, measure and research the sites as well as their application to have the sites protected has led to formal designation for these fascinating wrecks under the Protection of Wrecks Act.
We are pleased to have been supporting Martin and Dave through the process of assessment and are now excited to be working with them as part of the team that are further investigating the sites. It's great to hear they have also been enjoying working with us, Martin says: "We have been very grateful for all the support and direction that we have received from all at MAT during the course of this project and we look forward to continuing to work together as we go forward".
NW 96 is thought to date to the late 15th or 16th century and to be the remains of an armed merchant ship that was carrying a cargo of lead ingots. This amazing site includes over 50 lead ingots with so far unidentified markings as well as stone cannonballs. You can find out more by visiting the full Designation list entry here.
NW68 includes a number of cannons, one that is likely of Dutch origin was cast in Amsterdam between 1621 and 1661, which has helped date the site and the tentative interpretation that it could have been involved in the Battle of Portland in 1653, when the fleet of the Commonwealth of England was attacked by the Dutch Republic during the First Anglo-Dutch war. You can find out more by visiting the full Designation list entry here.
In 2021 we were delighted that Historic England supported the work of the joint team of Martin, Dave, Wessex Archaeology and ourselves, we were able to dive on NW68 to collect a photogrammetric dataset and undertake detailed recording of site features. Christin Heamagi, from the MAT dive team said "As a local archaeologist working in these waters for many years, I was surprised to see such a well preserved and rich assembly of arms recently discovered in the Solent. Swimming around the site definitely came with a wow-factor and spending time photographing objects, recording features and starting to understand the site felt like such a significant part of the archaeological process. I know that all of us in the team came up with big smiles on our faces after every dive".
Surveys in 2021 sought to create high-resolution documentation which has been used to create site plans. Future work on the sites will record them in more detail and collect additional photographs for developing into virtual dive trails that will make the sites accessible for anyone to discover and enjoy online.
While these sites are highly significant and extremely vulnerable, they are also relatively easy to observe and monitor, both by coast guard and heritage agencies, and also in-water through the tireless work of Martin and Dave mapping and cataloguing each of the big guns and also the smaller components. With the continued work of Martin and Dave there will no doubt be more discoveries to make public very soon!
These sites show that even in the Solent where we have a lot of marine activity and survey data that shifting seabed conditions and very detailed searches by divers can still uncover unknown shipwreck remains.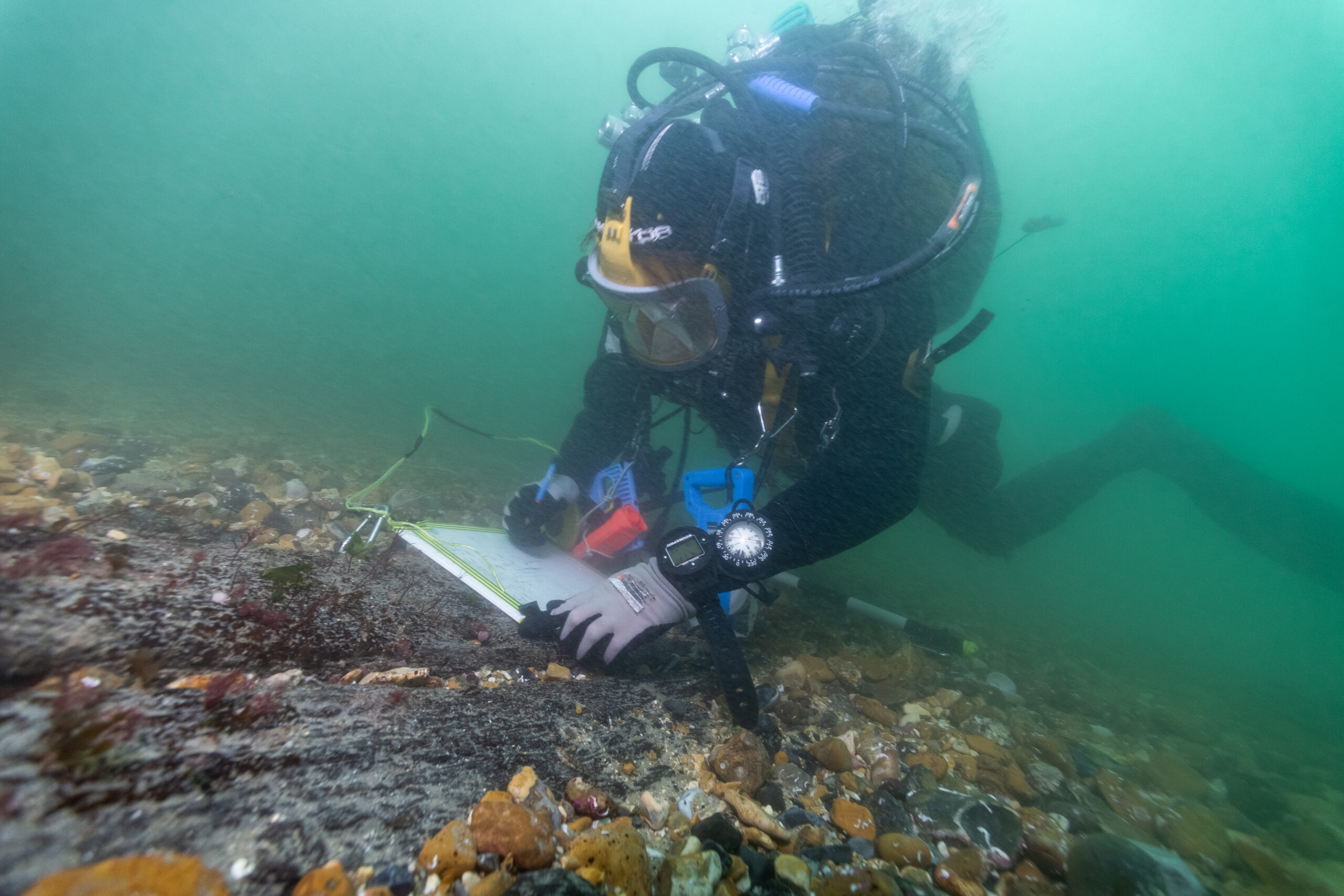 Archaeologist Christin Haemagi recording timber structure on the NW68 site.