Our Mayflower Memorial 3D Interactive Model was set up by Friends of the Maritime Archaeology Trust to celebrate Mayflower 400, a commemoration of Mayflower, the ship that carried the Pilgrim Fathers from England to America in 1620. The 3D model offers a detailed, interactive exploration of the Mayflower Memorial, including an annotated tour of the monument. It is fully accessible online and can be used as an educational resource or for research by anyone wishing to explore the history of Southampton, naval history, or the history of the English colonisation of New England.
THE MAYFLOWER MEMORIAL MONUMENT
The Mayflower Memorial is a 50 ft high column that stands on Southampton's Western Esplanade, looking out across Southampton Water. This is the area from which Mayflower left Southampton on its journey to the New World. The memorial is also known as the 'Pilgrim Fathers' Memorial', as Mayflower carried the English puritans, who later became known as 'pilgrims', to Plymouth, Massachusetts in 1620 to set up the first permanent colony in New England.
The monument is Grade II listed and was designed by local architect R. M. Lucas. It was built and erected in 1913 by local stonemasons and builders Garret and Haysom, who also built many other structures in Southampton between 1806-1963.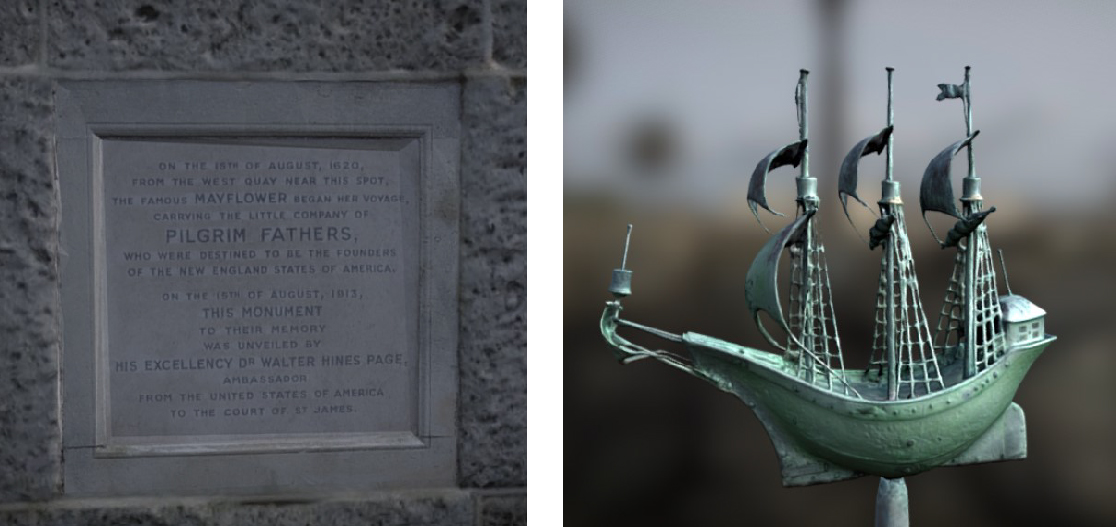 At the top of the stone stack there are pillars with carved semi-classical heads, which raise a mosaic cupola. A copper model of the Mayflower sits on the very top, which you can take a detailed look at using our interactive 3D viewer.
THE VOYAGE OF MAYFLOWER
Mayflower was at anchor in Southampton on 27 July 1620 where it waited for the ship Speedwell to arrive from Holland. They were in Southampton for nearly two weeks (as Speedwell needed a refit) before setting sail. Unfortunately, having barely cleared the English Channel, Speedwell started to leak and the two ships had to divert to Dartmouth so Speedwell could be repaired. On their second attempt, Mayflower and Speedwell managed to sail 200 miles beyond Lands End, when they had to turn back to Plymouth because of more problems with Speedwell. In early September, less than 156 miles from Southampton, it was decided that Speedwell was too unreliable to tackle the treacherous Atlantic crossing and the passengers who still wished to make the journey crowded onto Mayflower. At 100 ft long and 180 tons, Mayflower was not a large ship and was quite crowded with 30 crew and 102 passengers.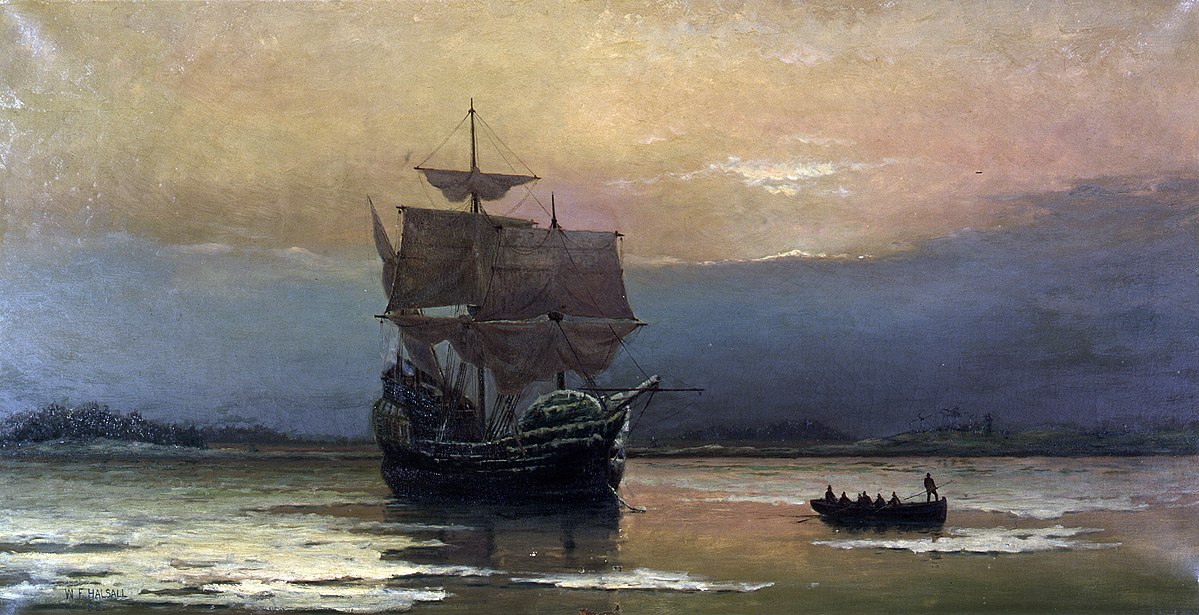 Our 3D interactive viewer includes an intimate and detailed overview of some of the passengers who journeyed to New England, along with further information about Mayflower and the Mayflower Memorial.
Please explore our 3D interactive model. You are very welcome to get in touch if you have any questions about the history of Mayflower, the Mayflower Memorial, or our 3D model.
We would like to thank Friends of the Maritime Archaeology Trust and volunteers from the Southampton community for helping with research and producing the 3D model, which was funded by money from Southampton City Council's Community Chest Grant.
If you enjoy our Mayflower Memorial interactive 3D model, you may also wish to explore some of our other interactive 3D models. Please follow this link if you would like to find out more about becoming a 'Friend of the Trust'.