The Silver War Badge was awarded in specific circumstances to those serving in the military and to merchant sailors for service in the First World War. Here MAT volunteer Roger Burns explores the service men and women eligible for the award with additional information about those aboard ships featured within the Forgotten Wrecks of the First World War project.
The Silver War Badge was first referred to as the 'War Badge' but popular jargon referred to it also as the 'Silver Wound Badge', 'Services Rendered Badge', 'Discharged Soldiers Badge', or 'King's Silver Badge'.
What was the Silver War Badge and the King's Certificate of Discharge?
Originally the badge, Figure 1, first awarded in 1916 to those discharged early from the army, with retrospective awards from August 1914, was intended to be worn on civilian clothes, the purpose being to prevent men not being in uniform and possibly without an apparent disability being thought of as shirkers, thus being evidence of having served, even if not for long.
The reverse of each badge has a unique number corresponding to the Silver War Badge rolls that survive at The National Archives which means that each badge can be traced to an individual.
Award of the badge was normally subject to King's Regulations Paragraph 392 (xvi) which are given here. If discharged during the war because of disabilities sustained after they had served overseas in an operational theatre, service people could also receive a King's Certificate. Those entitled to the Silver War Badge did not necessarily qualify for the award of a King's Certificate, but those awarded a Certificate would have been entitled to the Badge.
An ornate printed scroll, the King's Certificate of Discharge, detailed in handwritten calligraphy the names, number and unit of the discharged serviceman or woman. It additionally included 'Served with honour and was disabled in the Great War. Honourably discharged on…' and concluded with King George's facsimile signature. The Army, Navy and Air Force, and Imperial troops had different designs.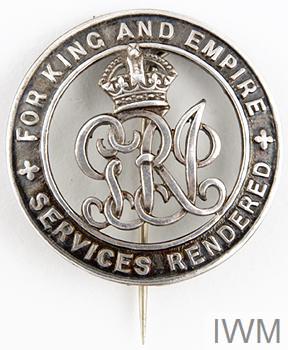 Award of the Silver War Badge to those serving in the Mercantile Marine
In 1917, the Board of Trade issued a directive which can be found at The National Archives along with correspondence between the Board of Trade and The Seafarers' Joint Council. The directive, TNA reference MT9/1404, is transcribed in the box below.
Later, the Board of Trade had given the Joint Council a list of Mercantile Marine recipients in December 1922, with the following text, also TNA reference M9/1404:
"As you are doubtless aware, the Silver War Badge, which was at first awarded only to officers and men of His Majesty's Naval, Military and Sir Forces, was afterwards granted to Masters, Officers and Seamen of the Mercantile Marine who were disabled through enemy action or war risks, under certain conditions (as outlined in the caption). Claims for the Badge from any men disabled prior to 31st December 1919 have been considered. Belated claims will still be dealt with, but the work of awarding this war decoration has now practically ceased. A list of those officers and seamen who have received the Badge has been drawn up, and constitutes an interesting record of War Service; a brief statement of the cause of disablement in each case is included, showing vividly the risks to which merchant seamen were exposed during the war. The Board of Trade believe that this record will be of interest to the Seafarers' Joint Council". 
Overall in the First World War, approximately 1,150,000 Silver War Badges were issued. For the Mercantile Marine, a total of 569 applications were reviewed and 155 Badges awarded and those which are attributed to vessels which were lost in the area of the Forgotten Wrecks project are listed alphabetically below. It is acknowledged that there will be other recipients who became eligible for the Badge whose vessels operated in the Forgotten Wrecks area. These are not included because their vessels were not lost within the project area.
SILVER WAR BADGE                          
MERCANTILE MARINE
(1)            These conditions will govern the grant of the Silver War Badge to those eligible among Masters, Officers and Seamen of British Mercantile ships (whether on Government service or not) in which the wages are paid by owners.
(2)            The Silver Badge may be awarded by the Board of Trade to any Master, Officer or Seaman coming within the definition in paragraph (1) who is incapacitated for service in the Mercantile Marine through —
(a)   an injury resulting from any act of hostility by or against the King's enemies;
or (b) illness or shock due to being torpedoed or under attack;
or (c) "strain" due to war conditions, including cases in which nervous, mental or physical strain of service at sea under war conditions has made the man unfit for further service at sea;
or (d) some disease (e.g., malaria or dysentery) resulting from employment on a ship on Government service in an unhealthy climate.
(3)            The Badge may be granted if it is proved that a man has been unable to go to sea for at least six months, and if the Board of Trade are of the opinion that it is unlikely that he can go to sea within the duration of the war.
(4)            The award of badges to Naval ratings, or to Masters, Officers or Seamen of the Mercantile Marine who are serving under special Naval engagements in His Majesty's Ships and Auxiliaries and whose wages are paid directly by the Admiralty, or Ministry of Shipping, will rest with the Admiralty.
(5)            The War Risks Associations who administer, on behalf of the Board of Trade, the Government War Risks Compensation Scheme will forward to the Board of Trade in the prescribed form full particulars of any case in which they are of opinion that the full conditions of paragraphs (1), (2) and (3) are complied with and will recommend the grant of the badge in such case.
(6)            The final decision in each case will rest with the Board of Trade.
Marine Department,
Board of Trade,
Revised November, 1917.
(14210-14) Wt.  -G597, 2000, D&S, G4
SHIP NAME
SHIP ON
RECIPIENT NAME
MM LIST
BADGE NR
RANK OR RATING
CAUSE OF INCAPACITY
Alaunia
RMS

135513

A. Harris
25
Printer
Compound fracture of right leg caused by the falling of the lifeboat while being lowered after vessel had been torpedoed.
Anglia
HMHS

111031

G.N. Thomas
6
2nd Mate
Oblique fracture of right thigh, fracture of trochanter, injury to right knee and fracture of bone of foot, caused by wreckage while in the water after the vessel struck a mine.
Asturias
HMHS

124669

James Dewey
148
Sick Berth Steward
Mental breakdown due to strain of serving in hospital ship under war conditions.
Broomhill
125460
W. Jones
131
Fireman
Wounded by shrapnel in left shoulder by gunfire from enemy submarine.
Cape Finisterre
124237
Wallace de Grey
135
Wireless Operator
Ear trouble caused by blow from wreckage when ship was torpedoed.
Diomed
105300
F.M. Richardson
11
1st Mate
Compound fracture of left leg and dislocation of right hip; caused by shell fire from enemy submarine.
Eastern Prince
129747
H.E. Ellis (formerly Sakove)
116
Wireless Operator
Neurasthenia and partial deafness due to shock when vessel was torpedoed.
Hungerford
136803
J.E.C. Lawlor
121
Cadet
Heart trouble due to shock when ship was torpedoed.
Irene
Steam Yacht

98150 [+1915]

T.F. Davis
70
Winchman
Nervous exhaustion, neurasthenia and chronic rheumatism caused by shock and immersion when ship was mined or torpedoed.
Lady Charlotte
120596
J.W. Smith
61

Not designated SS

Master
Nervous breakdown caused by war conditions.
Lusitania
115988
O. Slavin
21
Trimmer
Amputation of left arm; injury caused by explosion of torpedo.
Maloja
132012
H. Felix
56
Barber
Neurasthenia, the result of exposure after the vessel had been mined or torpedoed.
Maloja
132012
G. Pauncefort
91
Steward
Permanently incapacitated through injury to right hand when ship was torpedoed.
Porthkerry
128525
J. Doubler
27
Fireman
Struck on the eye by splinter of wreckage when the vessel was blown up; sight of both eyes permanently lost.
Sjaelland
Iron

3-masted schooner rigged SS.

133595

J.H. Wardell
80
Second Officer
Back and left arm injured by shell fire from enemy submarine.
Vesuvio
Sail & Steam

79155

E.J. Wiggin
7
Steward
Right leg amputated above knee: vessel torpedoed.
Notes to the above list:
The Ship Official Numbers are not given in the Official Silver Badge List but have been added to distinguish the specific ships as in some cases, there are more than one ship of the same name.
All the above vessels are designated SS (Steamship) except where shown. Anglia & Asturias were hospital ships.
Neurasthenia is described in Encyclopaedia Britannica as "syndrome marked by physical and mental fatigue accompanied by withdrawal and depression". The term is no longer in common usage.
The two hospital ships in the above list, HMHS Anglia and HMS Asturias, feature in the MAT article describing their respective experiences which can be read here. The article includes a painting of the Asturias by MAT volunteer artist Mike Greaves. Figure 2 shows the Anglia, another of Mike's excellent paintings.
When a vessel was lost during the war, there are numerous examples of those aboard losing their lives, as well as many saved. The Silver War Badge list allows us to discover some of the people who survived the sinking of their ship or who otherwise became incapacitated, and provides a tiny glimpse into the conditions and disabilities they had to endure as a result of their experiences during the war.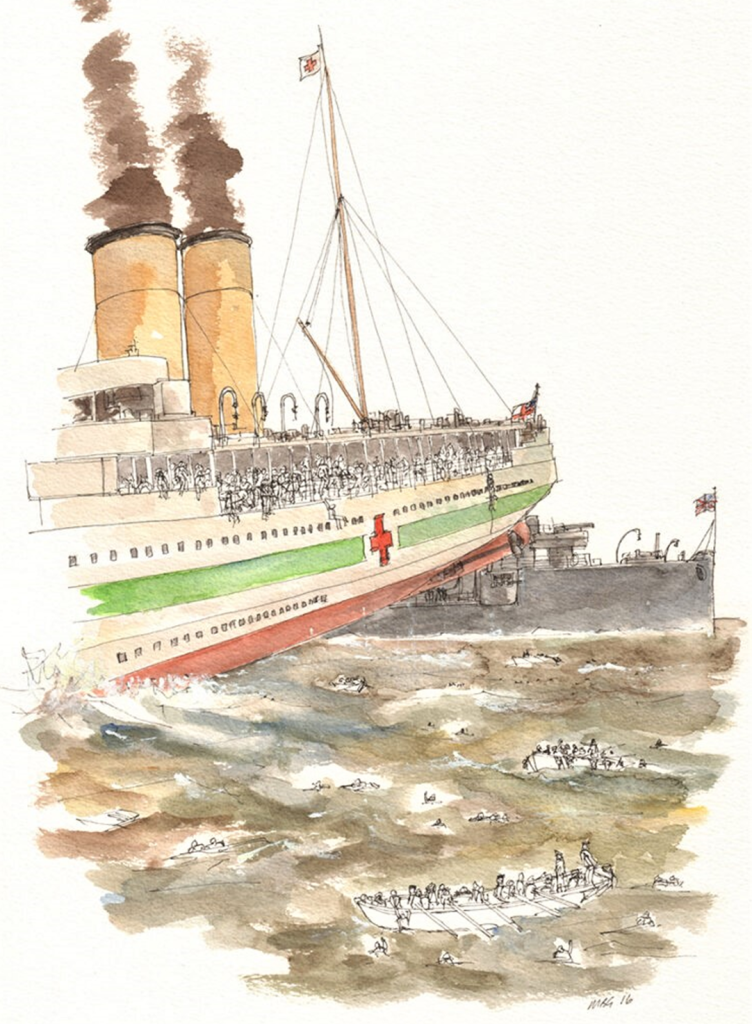 Figure 2: HMHS Anglia with HMS Ure in the background. MAT Volunteer Artist Mike Greaves.