Aurochs were large type of cattle that went extinct in the UK about 3000 years ago. We have discovered traces of auroch at the Mesolithic site of Bouldnor Cliff.
In this activity, print and cut out the auroch bones and try and put its skeleton back together!
Click the image below to download the resource!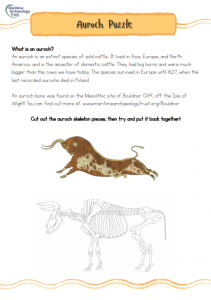 Curriculum Links
| | |
| --- | --- |
| Maths | EXAMPLE TEXT |
| ENGLISH | Example Text |
| Science | Example Text |